Award Winning Auto Repair Services
Pete's Automotive has been providing award-winning auto repair services in the Thousand Palms and Coachella area since 1981. Pete's Automotive has partnered with some of the top names in the auto repair industry to make sure that our customers get the best auto repair possible. We've partnered with the likes of NAPA, AAA, and ASE and we have received certification from all three companies due to our excellent levels of work. Pete's Automotive works on all types of makes and models, new and old, and even does fleet repair, motor homes, and RV repair, as well as having built our own shop to be able to meet all this needs and demands. This is just a taste of what sets us apart from our competition.
We also specialize and offer services in: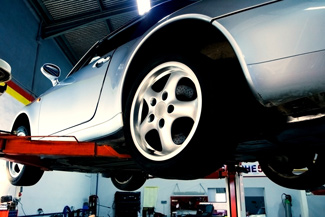 RV Service & Repair
Trailer & Camper Repair
Engine & Brakes
Scheduled Maintenance
Hot Weather Repairs & Services
---
Our Goals For Your Vehicle's Auto Repair
At Pete's Automotive, our mission is to build a relationship with all of our clients and have them just as involved in their auto repair as we are. Auto repair is our passion at Pete's Automotive, and we make sure that our customers are involved, informed, and are treated with integrity and compassion. We make sure that when we hire our technicians, we hire them based on their level of customer service, not just on their technical skills alone. We want all of our customers to be satisfied with their auto repair and we want our auto repair experts to provide them with the highest level of customer service to go with their repair.
---
In the Auto Repair Industry since 1981
Since 1981, Pete's Automotive has been providing quality auto repair in Thousand Palms and the Coachella area. We built our shop from the ground up to accommodate all of our customer's varying needs, whether it's a simple repair on a car or a heavy-duty fleet truck repair. As a family owned and operated shop, we know that our customers want honest and effective communication when it comes to their vehicle and the repairs it may need. We at Pete's can handle any type of auto repair, as we have 3 Master Technicians on staff and we are also AAA & ASE approved. When you come to Pete's Automotive, you know you're getting an honest and quality auto repair, which is why we offer a 12 Month/12,000 Mile Warranty with any qualifying repair or service work to cover parts and labor. If you need a trustworthy auto repair shop, call Pete's Automotive!
---
We are also a STAR Smog Test & Repair Center
If the DMV is asking for a "Smog Certificate Required at a STAR station" you can visit us at Pete's Automotive. We are fully authorized by the State of California to not only test your vehicle but to do any necessary repairs it needs to get certified. With many different parts affecting your car's emissions system, Pete's Automotive takes great care with each and every part, making sure that they are inspected, cleaned, and repaired or replaced correctly. This is especially crucial in older model vehicles, as the emissions requirements for most vehicles have changed over time. If your vehicle needs an upgrade or repair it's emissions system, Pete's Automotive can help!
---
Our Partnerships